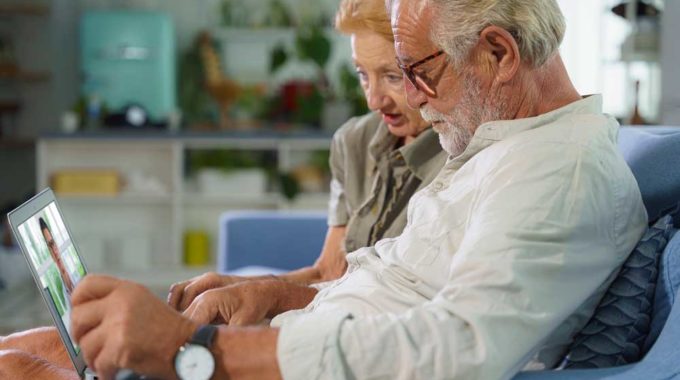 Telehealth and Hospice: COVID-19 Creates a Paradigm Shift – Part 5
5.
Telehealth and Hospice: COVID-19 Creates a Paradigm Shift – Part 5
The Future
---
The data are not available yet to assess patient and provider satisfaction with technology-based visits, but the consensus among Forster, Greene, Kiser and Ruff is that telehealth in hospice care is very likely here to stay – not as a substitute for in-person visits but as a valuable supplement.
"COVID-19 will have a long tail," Forster said. "People will not forget how vulnerable the elderly population is, and seniors will not be as comfortable accepting people into their homes for some time to come. Telehealth will allow us to continue to give people choices around end-of-life care, it will address legitimate fears, and it will add an important dimension to our treatment plan."
Greene sees telehealth staying with us. "It has been part of our strategic plan all along," Greene said. "We still have to determine how to best integrate telehealth as an added benefit to patients and families. But to be sure, I would like to see it become part of our on-call structure at a minimum."
The care teams throughout Ohio's Hospice are grateful for the new technology. Referral teams are communicating with families through Real-Time Care. Rapid admissions are being conducted through this new technology. Admission and social workers are meeting families off-site at a location other than where the patient is located to sign consent forms and discuss hospice services.
"This has allowed us to continue to provide care to patients who need hospice services," Ruff said. "We found Real-Time Care to be a very useful tool when nursing homes, extended care facilities and hospitals limited the number of visitors in their buildings because of the COVID-19 pandemic."
All four leaders also emphasized how important research will be in determining next steps for telehealth in hospice. "All of our information about effectiveness, appropriate use, and patient satisfaction is anecdotal because this is all so new," Forster said. "We will need research into how it is used, best practices in training and implementation, and what the effects and satisfaction levels are. I believe it can be an invaluable tool for us, but data collection and analysis will be critical to making those determinations."
Resources
CMS Expands Telehealth for Hospice, Other Providers During COVID-19 Outbreak
https://hospicenews.com/2020/03/17/cms-expands-telehealth-during-covid-19-outbreak/
Hospices Tackle Telehealth Challenges During COVID-19
https://hospicenews.com/2020/04/20/hospices-tackle-telehealth-challenges-during-covid-19/
Hospices Turn to Telehealth, Mostly, to Address
COVID-19 Concerns
https://mhealthintelligence.com/news/hospices-turn-to-telehealth-mostly-to-address-covid-19-concerns
Opportunities and Barriers for Telemedicine in the U.S. During the COVID-19 Emergency and Beyond
https://www.kff.org/womens-health-policy/issue-brief/opportunities-and-barriers-for-telemedicine-in-the-u-s-during-the-covid-19-emergency-and-beyond/

References
1 https://www.cms.gov/files/document/covid-hospices.pdf
About National Hospice Cooperative
Our mission is to provide world-class, business support services, maximizing financial and process efficiencies to empower community-based, not-for-profit hospice providers to focus their resources on the delivery of quality care.
Contributors
Sharon Schreiber
CEO BrandWeavers for Health
Donna L. Arbogast
President and Principle
Donna Arbogast & Associates LLC
Jeff Lycan
President
National Hospice Cooperative

——
Theresa Forster
Vice President for Hospice Policy and Programs
National Association for Home Care and Hospice
Stephanie Greene
Vice President and Chief Hospice Officer at Bluegrass
Care Navigators
Annette Kiser, RN, MSN, NE-BC, CHC
Chief Compliance Officer
Teleios
Ed Ruff
Chief Technology Officer
Ohio's Hospice