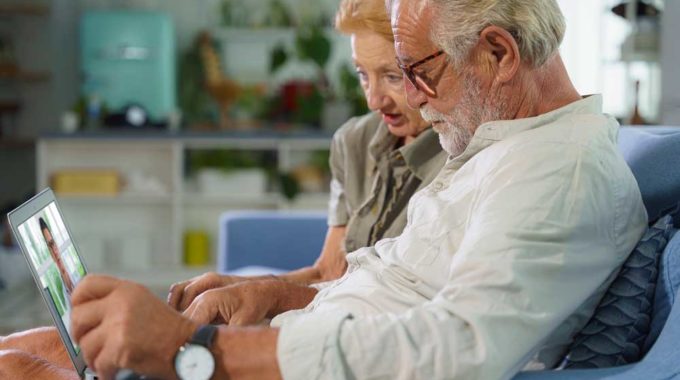 Telehealth and Hospice: COVID-19 Creates a Paradigm Shift – Part 4
4.
Telehealth and Hospice: COVID-19 Creates a Paradigm Shift – Part 4
The CMS Role:
Waivers Were Critically Important;
Reimbursement Questions Still Unanswered
---
Since March 2020, CMS has, according to its own press release, "issued an unprecedented array of temporary regulatory waivers" to help ensure that hospices could continue to meet patients' and families' needs during the COVID-19 pandemic.1
Forster agrees and says that the waivers, particularly those related to HIPAA and technology-based visits, "made a phenomenal difference in allowing patients to continue on service and in hospices comfortably."
Before COVID-19, Ohio's Hospice had been evaluating telehealth solutions. When CMS responded to the COVID-19 pandemic by allowing telehealth as an appropriate visit, Ohio's Hospice was able to implement Real-Time Care across all of its affiliates.
"Our response needed to be quick as the government social distancing restrictions were put in place," Ruff said. "We evaluated several possible solutions and found one that is secure and HIPAA compliant."
CMS stated early in the pandemic that there were very few conditions of participation that require in-person visits, and hospices could provide technology-based visits as part of the patient's plan of care, Forster explained.
Questions are arising, however, around claims, coding, and reimbursement, Forster explained. Currently, social work phone calls are the only ones that fall under a reportable technology visit. "Hospices have been instructed not to bill other visits unless they are in-person. This creates some frustration as it appears that direct services are not being provided when, in fact, they are – albeit through the use of technology. But there are no codes to differentiate between an in-person and a technology-based visit," Forster said. "We have gone to CMS to ask about a series of codes for this purpose, but this will be a longer-term process."
A telehealth visit is considered a regular visit from a plan-of-care perspective, but not from a claims perspective, Kiser explained. "In the last seven days of life, additional visits to patients – which are so important to care – can be entered on a claim, but not if they are provided via telehealth," Kiser said. "That's a problem, and it does not really make sense that we cannot report to CMS the number of those visits we are providing."
Another concern is whether CMS will provide codes but will lower the rate of reimbursement for a telehealth visit. "Telehealth changes the plan of care, but it doesn't necessarily lower the cost of care," Forster said. "If HIPAA flexibility is eliminated after the national emergency is over, everyone will need a certified system with the right hardware and software to continue technology-based visits. We also have broadband access issues in many rural areas of the country. This means there will be costs involved, and it could be very expensive, particularly for small hospices. All of this must be analyzed before CMS determines a reimbursement rate."