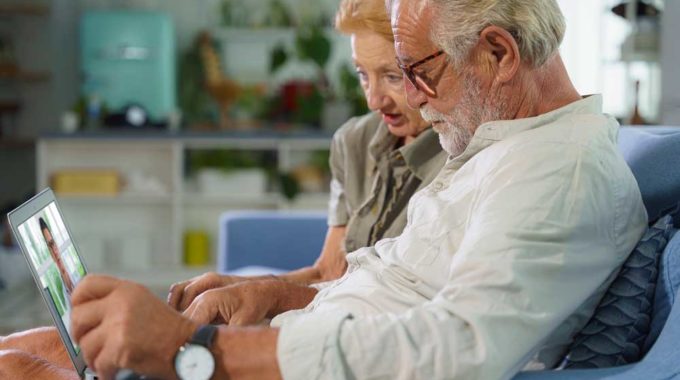 Telehealth and Hospice: COVID-19 Creates a Paradigm Shift – Part 3
3.
Telehealth and Hospice: COVID-19 Creates a Paradigm Shift – Part 3
Seven Lessons Learned:
From Training and Professionalism to
On-Call Coverage and Grief Support
---
Lesson 4: A Hybrid Approach to Visits Has Profound Impact
At Teleios Collaborative Network, teams have found that a hybrid approach to patient visits during COVID-19 adds unexpected value. "When a hospice nurse visits a patient in person, we've discovered that they can easily facilitate a telehealth visit for that patient – both with other members of the hospice team and with out-of-town family members," said Annette Kiser, RN, MSN, NE-BC, CHC, chief compliance officer for Teleios. "Having the nurse there makes a difference, because they know the technology, they can guide the team's discussion, and they can help patients 'see' family members, sometimes for the first time. It has been eye-opening."
Lesson 5: Telehealth Significantly Enhances On-Call Service
Both Greene and Kiser see a great advantage in telehealth technology when it comes to providing on-call support to patients and caregivers. "The biggest opportunity for telehealth long-term is to improve our on-call structure," Greene said. "When we get calls for help in the middle of the night, we cannot be in two or three places at once. With telehealth, we can actually visualize what is happening with the patient, we can do quicker assessments, and can often be more reassuring to caregivers about what they can and should be doing."
To ensure that it is providing the best care to patients and families during the COVID-19 pandemic, Ohio's Hospice is now offering Real-Time CareSM, a collection of telehealth and support tools. Real-Time Care has been helpful to greatly reduce exposure to COVID-19 and maintain social distancing, while continuing to deliver care.
"We are working diligently to ensure the safety of our patients, families, volunteers and staff during the COVID-19 pandemic," said Ed Ruff, chief technology officer at Ohio's Hospice. "When a visit to a patient's home is not feasible, the care team at Ohio's Hospice now has the ability to perform video-based visits with patients and family members."
However, if an in-person visit is needed, the care team goes wherever the patient calls home and addresses their needs in person.
"Our Real-Time Care tools are available for all staff to use to quickly deliver the same superior care and superior service our patients and families expect from Ohio's Hospice," Ruff said. "Through Real-Time Care, our care teams are able to spend less time traveling and more time interacting with patients."
Lesson 6: Volunteers and Telehealth Can Be a Good Match
One unexpected finding involving telehealth is that it provides an opportunity for patients to socialize at a time when they are particularly isolated, Kiser said. "We have identified patients who truly enjoy talking on the phone or using a video link, and we have asked our volunteers to make those connections," she explained. "Volunteers are not visiting patients in their homes right now, but they can talk with them – and that helps our patients as well as our providers."
Lesson 7: Telehealth Makes Grief Support Possible in Difficult Times
In addition to patient care, telehealth offers some advantages for grief support for families during COVID-19, Kiser said. "Zoom has actually created some real opportunities for grief support groups, because it's easier for people to get together when they do not have to be in one specific location," she said. "People do like the face-to-face interaction, and Zoom makes this possible. It is also a lovely way to do virtual grief camps. I have done hospice work for 34 years, and I do not want to lose the personal touch. But telehealth has allowed us to keep these personal connections at a critical time."